Progressive
Pet insurance is an essential component of taking care of your pet. It will offset medical and emergency costs and provide peace of mind. Progressive is one of the largest household insurance companies in the United States, and they offer everything from auto insurance to home insurance and pet insurance. If you are looking for quality pet insurance with a reputable insurance company, Progressive is worth checking out.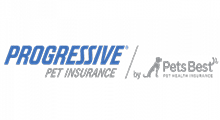 Approved claims paid immediately
Supports all major lenders
* This content is not provided by the financial institution or the offer's provider. Any opinions, analyses, reviews or recommendations expressed here are those of the author's alone, and does not constitute a financial or expert advice.
We receive advertising fees from the service providers we rank below.
Advertising Disclosure