Discover Personal
Personal loans are a powerful Financial tool that enables customers to borrow larger sums of money with competitive interest rates. Funds can be used for anything such as financing a wedding, paying for a large vacation, or covering expensive repairs. Other lending tools like credit cards are revolving credit lines, which means that borrowers can keep increasing their balance while paying it down. This can be detrimental to your personal finances because large charges will incur a substantial amount of Interest. Thankfully, personal loans generally offer a fixed interest rate that is much lower than the average credit card interest rate, Which can be the perfect solution if you need to finance a large expense and want to save money on interest fees. Discover is an online bank famous for its fee-free accounts, credit cards, and they offer personal loans with very few fees. For customers who want to borrow up to $35,000 and would like to extend their payment plan to at least 36 months, Discover has a lot to offer.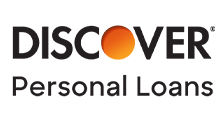 Many different types of loans available
Useful online mortgage calculators
Pros
Minimum income requirement is very low - $25,000
Top-rated customer experience
APR's can be as low as 6.99%
interest-free bonus if the entire balance is repaid within 30 days
Cons
Customers must have a Social Security number to apply
Late fee of $39
Discover does not allow co-signers on loans
* This content is not provided by the financial institution or the offer's provider. Any opinions, analyses, reviews or recommendations expressed here are those of the author's alone, and does not constitute a financial or expert advice.