How Renters Insurance Helps With Natural Disasters
For users in
-
Get Maximum Coverage for Best Rates
Claim exclusive discounts and offers
Quickly get an online quote
Tenants who rent out Apartments, Townhomes, or houses often have renter's insurance policies to mitigate Financial Risk and liability in the event of a covered loss.
However, there are a few gray areas regarding what renters insurance covers and what it doesn't. Renters insurance is one of the most powerful policy types because it does cover a vast array of scenarios, including theft, pet damage, temporary housing, and more.
Today, we're going to talk about natural disasters and the financial implications of how renters insurance handles different losses.
Renter's Insurance
Renters insurance is invaluable to tenants who rent Apartments and Townhomes because we're a relatively low monthly premium ( usually less than $30 a month), you have access to $100,000 in liability coverage or more depending on your policy.
One of the primary benefits of renter insurance is property damage coverage. Many people mistakenly assumed that a landlord's homeowners policy extends to the renter's property. However, this is not the case because the landlord's homeowner policy only extends to damage caused to the physical building and its appliances.
If you are rented home burnt down and did not have a renter's insurance policy, the landlord's policies would not extend to your destroyed property.
This is where renters insurance Steps in. Renters insurance will repay you for your Lost Property and even pay for temporary housing if your rented home becomes unlivable.
Another powerful benefit of renter's insurance is liability coverage. Liability coverage protects you from legal and medical liability if somebody gets hurt and increases in Inverrary at your rented home.
For example, the average cost of a dog bite injury can be up to $35,000, and if the injured party decides to file a lawsuit, you may be out of pocket for an extreme amount of money. However, if you have a renter's insurance policy, it will pay out up to its maximum, which can save you tens of thousands of dollars.
Natural Disasters
Another benefit provided by renters insurance policies is reimbursement for damages incurred by natural disasters. Unfortunately, natural disaster coverage is less straightforward Because different disasters can be Regional and excluded from various renter's policies.
Covered Disasters
First, we are going to discuss generally covered natural disasters and how they impact your claims:
Ice, Sleet, Snow Collapse
During heavy winter weather, ice and snow can accumulate on top of your roof before it melts. It's the weight of the snow and ice is too much for the roof's structural integrity; it may collapse and destroy a large amount of your property and potentially even cause an injury.
Your renter's insurance policy will step in to pay for the damages and reimburse you for your Lost Property. However, it will not pay for the damage to the roof because the landlord owns the building, and the landlord's policy will be responsible for the building.
Although fire and smoke are very closely related, they cause different types of damage depending on the severity of the fire. For example, if a fire broke out in your kitchen but was quickly extinguished, that would be a separate part of a claim than if smoke damaged your bedroom furniture.
Your rental insurance policy would also cover any damage caused by smoke in another room that was not touched by the fire.
Hail and Windstorm Damage
Although renter's insurance policies do not cover hurricane damage, they will cover damages incurred by hail and wind storms which are often side effects of hurricanes.
You can also experience a severe hail storm during the winter, but regardless of when the hail storm happens, any damage to your property incurred by the hail will be covered by your renter's insurance policy. However, you will have to prove to your insurance provider that hail was the primary culprit.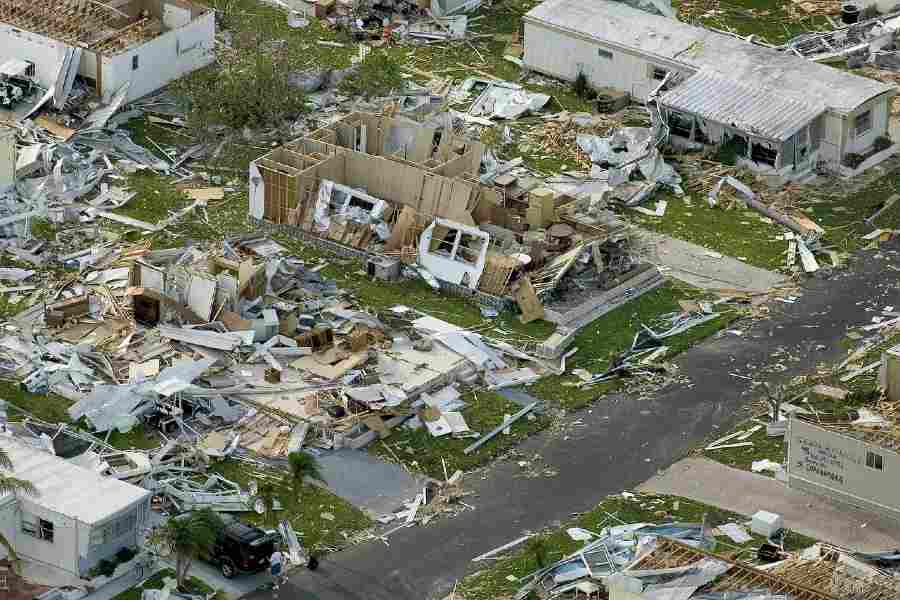 Fire damage is one of the most catastrophic and common loss scenarios faced by property owners and renters alike. Renter's insurance policies will cover fire damage incurred accidentally as well as Wildfire damage depending on your policy and location.
In States like California, where wildfires are common, you may face explosions or limits from your insurance provider depending on how close you are to Wildfire prone areas. Be sure to check with your provider the extent of fire protection they offer if you live in an area where fires are common.
Similar to fires, your rental insurance provider will pay for any damages incurred by volcanic eruptions to your property, but not to the structural damage to the building. If you live in an area regularly exposed to volcanic activity, you may want to check with your insurance provider to see if they will provide additional coverage.
Not Covered Under Renter's Insurance
Now that we've covered some of the most common natural disasters covered under renters insurance policies, it's time to discuss some of the common exclusions not covered by insurance:
Flood damage and water damage it's generally never covered by renter's insurance. Although your renter's insurance May cover flood damage caused by plumbing and faulty appliances, you want me to purchase a separate flood insurance policy if you are in a flood-prone area.
You can purchase these through the national flood insurance program, which the Federal Emergency Management Agency offers.
Earth Movements – Earthquakes, Mudslides, Sinkholes, and Landslides
As a general rule, Earth movements are not covered by renters insurance policies. Earth movements can be defined as earthquakes, mudslides, sinkholes, or landslides, and they are all generally exempt from coverage from renter's policies. So, if you are in California or somewhere prone to earthquakes, you may want to purchase an additional earthquake insurance policy to protect your property.
Hurricane damage is generally Broad and catastrophic do insurance companies do not reimburse for property damage incurred directly by hurricanes. However, you may be able to file a claim for Hurricane related losses such as Neil storms and wind storms.
Final Thoughts
As you can see, renter's insurance covers a wide array of natural disasters and damages incurred by fire, but it does have some strong explosions, including hurricanes and earthquakes.
If you have questions about your insurance policy, reach out to your provider. If you want to learn more about renter's insurance and finding the best providers check out our other reviews and guides for more information!
* This content is not provided by the financial institution or the offer's provider. Any opinions, analyses, reviews or recommendations expressed here are those of the author's alone, and does not constitute a financial or expert advice.