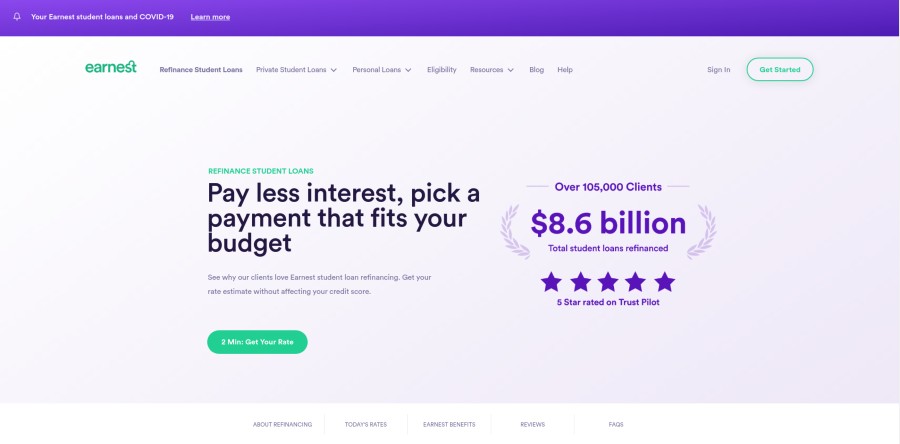 As the average cost of a college degree seems to get higher and higher with every passing year, the need for quality, reliable student loans is becoming increasingly important to many Americans. There are countless people who want to enjoy the benefits of a college education but simply can't cover the costs themselves, so they turn to loan companies and providers. One of the providers you might be considering for your student loans or student loan refinancing is Earnest, and this review will take a closer look at the features and aspects that help this provider stand out.
Overview of Earnest
Founded in 2013, Earnest is a provider of both student loans and student loan refinancing, covering the full spectrum of student needs. This company has become popular over the years due to the money-saving possibilities it can offer to its customers, as well as its no late fee policy and customizable repayment plans.
Back to top

↑
Features of Earnest Student Loans
If you're on the lookout for student loans or student loan refinancing, Earnest is one of the best rated providers out there right now. Here are some aspects that help this site stand out:
Personalized Options – Every student is different, with their own unique needs and circumstances. Many student loan providers fail to understand this simple fact, but Earnest isn't one of them. In order to cater to a wide range of borrowers, Earnest provides a varied selection of customized and personalized plans, letting you adjust and amend your offering in various ways.
Useful Mobile App – Another way in which Earnest has proven itself to be in tune with the needs and lifestyles of modern day students is in the development and design of its excellent mobile app. It's a very useful application, letting users log in and see the status of their loans in a matter of seconds, as well as making changes and payments with ease as well.
Great Rates and Grace Periods – Whether you're applying for student loans or student loan refinancing, it's vital to get the best possible rate. With Earnest, rates are highly competitive, and since the plans are so customizable, with several different repayment plans and options to choose between, there are many ways to get an even better rate. Not only that, but Earnest provides a much longer grace period (9 months) than most other providers on its private student loans.
Back to top

↑
How Does Earnest Work?
Read on to learn all about the process of applying for student loans or refinancing with Earnest:
Visit the Site – The first step to getting student loans or refinancing with Earnest is to head on over to the official Earnest site and visit the corresponding page related to the service you require.
Provide Some Information – Depending on whether you want private student loans or student loan refinancing, you'll have a different form to fill out, but the process is quick and simple in both cases.
Consult the Plan and Confirm – Once you've filled out the application form, Earnest will show you some rates and repayment plans you can choose between. Be sure to compare the options provided and consider the pros and cons of each one before proceeding.
Back to top

↑

We receive advertising fees from the service providers we rank below.
Advertising Disclosure