Sofi
Buying a home can be tough. The stress of dealing with loans and realtors as well as paying such a huge lump sum for down payment can really take a toll on your wallet. This home loan company, created by the online realty estate marketplace Zillow, specializes in making the home buying experience easier by lowering your down payment and simplifying the process. Let's take a deeper look into what SoFi has to offer and see how it rates in comparison to other home loan companies.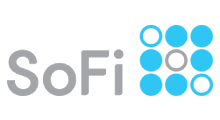 Award Winning National Mortgage Company
Real bank with real people to help you

We receive advertising fees from the service providers we rank below.
Advertising Disclosure