Sofi
There are many situations in life where you might find yourself short on cash and need to borrow a little (or a lot) more to pay for the goods and services you need. SoFi is one of the many loan providers who can help you get a personal loan, and this company has become a leading name in the lending industry in recent years. Our SoFi review will tell you all you need to know.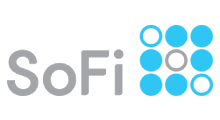 Award Winning National Mortgage Company
Real bank with real people to help you
Pros
Unemployment protection for unexpected job losses
A wide range of amounts and terms
Lots of educational support for customers
Cons
Application process can take time

We receive advertising fees from the service providers we rank below.
Advertising Disclosure