Insurify
Owning your own vehicle comes with a lot of advantages, making it so much easier for you to get from place to place, but it's absolutely essential to ensure that you have auto insurance before you get behind the wheel and hit the road in your new car.
Not only is car insurance a mandatory obligation in most states, it can also be a veritable life-saver if an accident occurs, helping to cover the costs of any repairs or work that needs to be done to your vehicle, along with liability, medical, and legal fees that can come along with accidents too.
In short, auto insurance is essential. Even if you're a safe and sensible driver, the risks of getting into an accident are always present, and you never know when you might come across a negligent or reckless road user while on your way to work or picking the kids up from school.
However, finding the right insurance can feel like a challenge, especially with more than 650 different auto insurance companies to choose from. This is where Insurify comes into play. Rather than offering its own auto insurance packages, this site serves as a quick and easy insurance comparer, helping you get the best policy at the best price.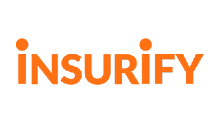 Instant quote comparison
Simple coverage comparison

We receive advertising fees from the service providers we rank below.
Advertising Disclosure